' Assign ColorRGB value to another variable
' Generate Red Color Number
ColorValue1 = ColorRGB( 255, 0, 0 )
' Generate Green Color Number
ColorValue2 = ColorRGB( 0, 255, 0 )
' Generate Blue C0lor Number
ColorValue3 = ColorRGB( 0, 0, 255 )
OR
' Assign ColorRGB values to chart object function
' Use Red Color value for data series Line1
chart.AddLineSeries( AsSeries( Line1 ), 100, "Line1", ColorRGB( 255, 0, 0 ) )
' Use Green Color value for data series Line1
chart.AddLineSeries( AsSeries( Line2 ), 100, "Line2", ColorRGB( 0, 255, 0 ) )
' Use Blue Color value for data series Line1
chart.AddLineSeries( AsSeries( Line3 ), 100, "Line3", ColorRGB( 0, 0, 255 ) )
OR
' Assign ColorRGB values to SerSeriesColorStyle function
' Use Red Color value for PlotLine1 series Line1
SetSeriesColorStyle( PlotLine1, ColorRGB( 255, 0, 0 ) )
' Use Green Color value for PlotLine2 series Line1
SetSeriesColorStyle( PlotLine2, ColorRGB( 0, 255, 0 ) )
' Use Blue Color value for PlotLine3 series Line1
SetSeriesColorStyle( PlotLine3, ColorRGB( 0, 0, 255 ) )
OR
' Consider a Random number color assignment
' Red GREEN BLUE
plotColor = ColorRGB( Random(255), Random(255), Random(255) )
---
Trading Blox Color Selection Dialog:
All BPV Series will provide access to the Trading Blox Color Selection Dialog when the BPV series uses a System, Test or Simulation Scope setting with a BPV numeric series.
To display the color selection dialog, follow the click steps in this next image:
When the "More Colors..." button is clicked the dialog in this next image will appear: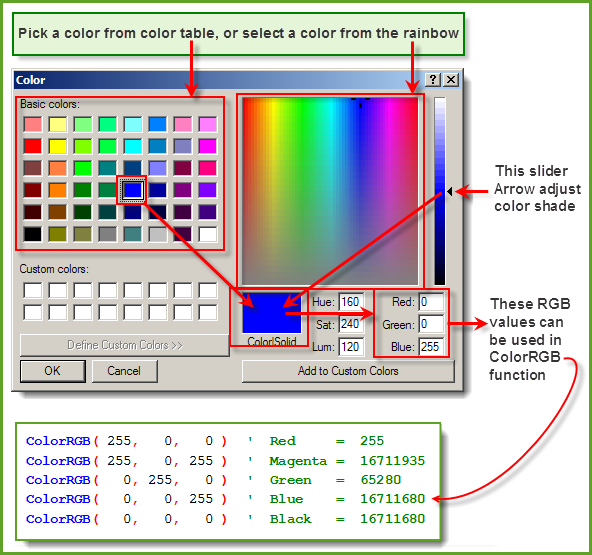 Just about any color's RGB value can be discovered using this dialog. However, if the chart image where this color is to be used will appear in a report generated with a HTML Browser process that is used to create Trading Blox reports, picking a color from the Basic Color Matrix Table will keep the colors used within the Safe-Color range that are easily reproduced using a HTML process.
Applying the RGB, (Red, Green, Blue) values to Trading Blox's ColorRGB function, place the color numbers using Blue, Green and Red as the first, second and third parameter locations
Script Color Assignment Examples:
' Red Green Blue
PlotColor1 = ColorRGB( 255, 0, 0 ) ' Plot Red Color
PlotColor2 = ColorRGB( 0, 255, 0 ) ' Plot Green Color
PlotColor3 = ColorRGB( 0, 0, 255 ) ' Plot Blue Color
' Trade Color Preference Settings Color Numbers values
PlotColor1 = ColorCustom1 ' Use Preference ColorCustom1 Value
PlotColor2 = ColorCustom2 ' Use Preference ColorCustom2 Value
PlotColor3 = ColorCustom3 ' Use Preference ColorCustom3 Value