Requirement for Use:
•Data series must be an IPV that is set to "Auto-Index".
•This function will also color Indicators created using Trading Blox built-in Indicator Creation Dialog.
•Each element of an IPV Indicator series can be colored.
•IPV series indicator can only be plotted on the instrument chart display.
•Indicator chart displays using this function override the indicator's dialog plot type selection
Syntax:
SetSeriesColorStyle(series, plotColor, [plotStyle], [offset] )
Parameter:

Description:

series

The name of series.

plotColor

Element Color to use with named "series"

Preference Color Setup:

Color Constant Name:

ColorGrid

ColorBackground

ColorCrossHair

ColorLongTrade

ColorShortTrade

ColorTradeEntry

ColorTradeStop

ColorTradeExit

ColorUpBar

ColorDownBar

ColorUpCandle

ColorDownCandle

ColorCustom1

ColorCustom2

ColorCustom3

ColorCustom4

Note:

More information about colors is available here: Colors.

[plotStyle]

| Style Value: | Style Type: |
| --- | --- |
| 1 | Thin Line |
| 2 | Thick Line |
| 3 | Trace |
| 4 | Small Dot |
| 5 | Large Dot |
| 6 | Up Arrow |
| 7 | Down Arrow |
| 8 | Histogram |
| 9 | Area |
| 10 | Staircase |

[offset]

Zero will change the color of the bar information at the current location. An offset value of 1 will change the color of the previous bar. Offset values with this function operate in the same way as a price or auto-index series.
Example - 1:
In the following, barPlotColor is a Bar Plot Color type indicator that is checked for plotting and unchecked for display.
barMessage is an auto indexed string series.
plotTrades is an auto indexed numerical series.
' ~~~~~~~~~~~~~~~~~~~~~~~~~~~~~~~~~~~~~~~~~~~~~~~~~~~~~~~~~~~~~~
' Setting the location, color, and style of a plotting IPV series.
If instrument.unitBarsSinceEntry = 1 AND instrument.position = LONG THEN
plotTrades[1] = instrument.low[1] - instrument.minimumTick * 10
SetSeriesColorStyle( plotTrades, ColorLongTrade, 6, 1 )
ENDIF

If instrument.unitBarsSinceEntry = 1 AND instrument.position = SHORT THEN
plotTrades[1] = instrument.high[1] + instrument.minimumTick * 10
SetSeriesColorStyle( plotTrades, ColorShortTrade, 7, 1 )
ENDIF

' Bar Plot Color type indicator example to color the trade
' chart bars dynamically.
If instrument.close > instrument.open THEN
SetSeriesColorStyle( barPlotColor, ColorUpBar )
barMessage = "Up Day!"
ELSE
SetSeriesColorStyle( barPlotColor, ColorDownBar )
barMessage = "Down Day!"
ENDIF
' ~~~~~~~~~~~~~~~~~~~~~~~~~~~~~~~~~~~~~~~~~~~~~~~~~~~~~~~~~~~~~~
Example - 2:
' ~~~~~~~~~~~~~~~~~~~~~~~~~~~~~~~~~~~~~~~~~~~~~~~~~~~~~~~~~~~~~~
' This will set the color to a random color for each bar
' and the style to a random style – nice look!
SetSeriesColorStyle( averageTrueRange, ColorRGB( Random(255), _
Random(255), Random(255) ), Random(10))
' ~~~~~~~~~~~~~~~~~~~~~~~~~~~~~~~~~~~~~~~~~~~~~~~~~~~~~~~~~~~~~~
Example - 3:
' ~~~~~~~~~~~~~~~~~~~~~~~~~~~~~~~~~~~~~~~~~~~~~~~~~~~~~~~~~~~~~~
' Color of the up bar AND a thin line:
SetSeriesColorStyle( averageTrueRange, ColorUpBar, 1 )
' ~~~~~~~~~~~~~~~~~~~~~~~~~~~~~~~~~~~~~~~~~~~~~~~~~~~~~~~~~~~~~~
Example - 4:
' ~~~~~~~~~~~~~~~~~~~~~~~~~~~~~~~~~~~~~~~~~~~~~~~~~~~~~~~~~~~~~~
' Label Volume using the direction of bar close change value
If instrument.close[0] > instrument.close[1] THEN
' Display Volume Series
SeriesVolume = instrument.volume[0]
' Use ColorUpBar Color on this Volume bar
SetSeriesColorStyle(SeriesVolume, ColorUpBar, 8, 0 )
ELSE
If instrument.close[0] < instrument.close[1] THEN
' Display Volume Series
SeriesVolume = instrument.volume[0]
' Use ColorDownBar Color on this Volume bar
SetSeriesColorStyle(SeriesVolume, ColorDownBar, 8, 0 )
ELSE
If instrument.close[0] = instrument.close[1] THEN
' Use Default Color for Volume bar item
SeriesVolume = instrument.volume[0]
ENDIF ' i.close[0] = i.close[1]
ENDIF ' i.close[0] < i.close[1]
ENDIF ' i.close[0] > i.close[1]
' ~~~~~~~~~~~~~~~~~~~~~~~~~~~~~~~~~~~~~~~~~~~~~~~~~~~~~~~~~~~~~~
Script code output in this example creates this next chart of volume changes:
Display Result: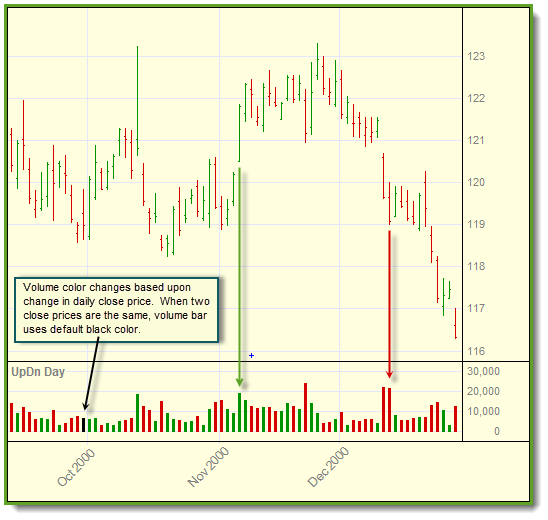 ---
| | | |
| --- | --- | --- |
| Edit Time: 5/10/2017 10:36:50 AM | | Topic ID#: 555 |