This file is used to record the output from all PRINT statements in Trading Blox Builder Edition. The PrintOutput.csv is a text file that is re-written every time a test is run. Most often the data contained in this file is comma delimited for easy use in other programs like Excel. It is also easily opened with the Windows Notepad.
Print Output.csv file is stored in the Trading Blox Results folder. You can quickly open this folder from the Results Menu Group: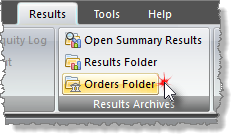 Be sure to close all log files before you run another test so Trading Blox complain with a reminder to close the a log file. Another option is to open the copy of a log file that is saved in the test results folder. Log files saved in locations that are not in the Results folder don't need to be closed, but spreadsheet programs might not allow two different files with the same name to be open at the same time.
---
| | | |
| --- | --- | --- |
| Edit Time: 6/26/2017 10:57:10 AM | | Topic ID#: 188 |