Volatility adjusted overbought/oversold oscillator. Value chart levels between -4 and +4 are considered "fair value"; +4 to +8 moderately overbought; -4 to -8 moderately oversold. Levels above +8 are considered significantly overbought and below -8 significantly oversold.
Value Charts are discussed in the book "Dynamic Trading Indicators" by Mark W. Helweg & David C. Stendahl.
Syntax:
ValueChart ( series, bars )
| Parameter: | Description: |
| --- | --- |
| series | Name of the series. The series must be one of Instrument.High, Instrument.Low, Instrument.Close, Instrument.Open. |
| bars | The number of bars over which to find the value chart level. |
Notes:
In copyright publication dated 2002 Value Charts are described on page 127 to 145.
Book uses the value of the Value Chart return to decide if a bar on the chart qualifies for a signal.
Returns:
The value chart level over the specified number of bars.
Example:
' ~~~~~~~~~~~~~~~~~~~~~~~~~~~~~~~~~~~~~~~~~~~~~~~~~~~~~~~~~~~~~~
' Update Indicators
' ~~~~~~~~~~~~~~~~~~~~~~~~~~~~~~~~~~~~~~~~~~~~~~~~~~~~~~~~~~~~~~
' Boundary Levels above and below zero
' Two Parameter positive numbers feed upper and boundary
' levels by inverting values for lower boundaries
VC_Level2Up = VC_Level2 ' 8 IPV Series Plot
VC_Level1Up = VC_Level1 ' 2 IPV Series Plot
VC_Level1Dn = -VC_Level1 ' -2 IPV Series Plot
VC_Level2Dn = -VC_Level2 ' -8 IPV Series Plot

' Value Chart Indicator Feeds IPV Series with BarCoun length
Value_Chart = ValueChart(Instrument.Close, BarsCount)
' ~~~~~~~~~~~~~~~~~~~~~~~~~~~~~~~~~~~~~~~~~~~~~~~~~~~~~~~~~~~~~~
Chart Display: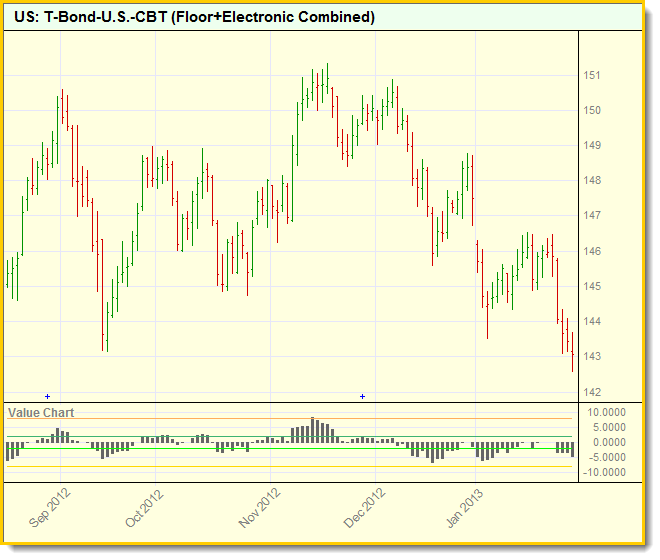 ---
| | | |
| --- | --- | --- |
| Edit Time: 4/8/2018 1:27:42 PM | | Topic ID#: 644 |