All Indicators and Series Functions listed in this section are contained in the DLL files listed below:
DLL File Name:

Use with Trading Blox 4 & Installed Windows Bit-Size Version:

IndicatorPack1-32.dll

IndicatorPack1-64.dll

32-Bit & 64-Bit version of Windows. Both can be the direct the Extension folder at the same time. Trading Blox will use the version that it needs and will ignore the other DLL.

Note:

Reference the Trading Blox User Help file's Getting Started topic that discusses "Installing and Running Trading Blox."
Description information about this indicators and series functions is available:
Indicators:
Series Functions:
Indicator Pack 1 Series Functions
Indicator Pack extensions are placed in the Trading Blox Extension folder that is created when Trading Blox is installed. If you need to discover where the files are located or need to know where to place them, use this director image detail: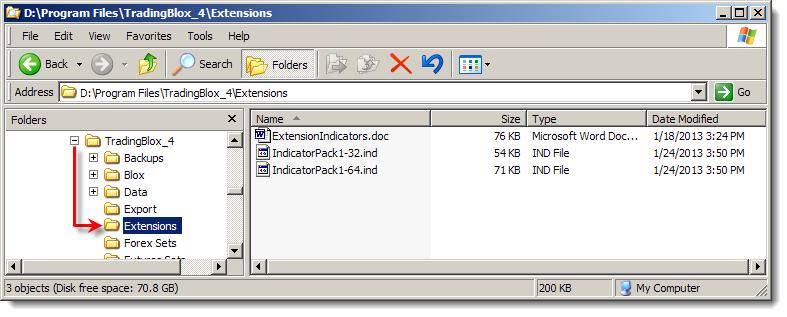 ---
| | | |
| --- | --- | --- |
| Edit Time: 5/10/2017 7:36:04 PM | | Topic ID#: 380 |