Median Absolute Deviation (MAD) is a measure of variation used in a similar manner to the standard deviation. The MAD is more robust in the presence of outliers and does not require a gaussian distribution.
In order to estimate the standard deviation for a gaussian distribution the MAD can be multiplied by 1.4826
Syntax:
MedianAbsoluteDeviation( series, bars )
| Parameter: | Description: |
| --- | --- |
| bars | The number of bars over which to find the median absolute deviation |
Returns:
The median absolute deviation over the specified number of bars.
Example:
' ~~~~~~~~~~~~~~~~~~~~~~~~~~~~~~~~~~~~~~~~~~~~~~~~~~~~~~~~~~~~~~
' Update Indicators Script
' ~~~~~~~~~~~~~~~~~~~~~~~~~~~~~~~~~~~~~~~~~~~~~~~~~~~~~~~~~~~~~~
' MedAbsDev = IPV - Numeric Series
' Bar_Count = 21
MedAbsDev = MedianAbsoluteDeviation( Instrument.Close, Bar_Count )
' ~~~~~~~~~~~~~~~~~~~~~~~~~~~~~~~~~~~~~~~~~~~~~~~~~~~~~~~~~~~~~~
Chart Display: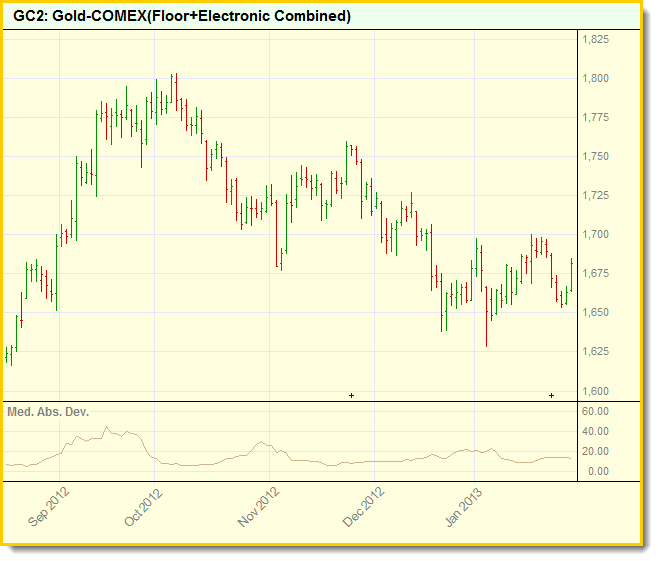 ---
| | | |
| --- | --- | --- |
| Edit Time: 4/8/2018 1:44:00 PM | | Topic ID#: 418 |