Adaptive exponential moving average.
The moving average adapts based on the distance between the moving average and the current price.
Syntax:
EhlersZeroLagEma( series, emaseries, bars, lastValueOfSeries )
| Parameter: | Description: |
| --- | --- |
| series | The name of the series |
| emaseries | Normal exponential moving average (ema) series that was previously calculated. This ema should use the same period and is used as a starting point for adapting the moving average. |
| bars | The number of bars over which to find the moving average |
| lastValueOfSeries | The previous value in the series |
Returns:
The zero lag exponential moving average.
Example:
' ~~~~~~~~~~~~~~~~~~~~~~~~~~~~~~~~~~~~~~~~~~~~~~~~~~~~~~~~~~~~~~
' Update Indicators Script
' ~~~~~~~~~~~~~~~~~~~~~~~~~~~~~~~~~~~~~~~~~~~~~~~~~~~~~~~~~~~~~~
' EZLEma = IPV numeric auto-index series
' EmaClose = Built-In Indicator EMA Close - 21-bars
' Bar_ Count = 21 - Parameter - Lookback enabled
' Ehler's Zero Lag Ema - EmaClose = built-in Ema of Close
EZLEma = EhlersZeroLagEma( Instrument.Close, _
EmaClose, _
Bar_Count, _
EZLEma[1])
' ~~~~~~~~~~~~~~~~~~~~~~~~~~~~~~~~~~~~~~~~~~~~~~~~~~~~~~~~~~~~~~
Chart Display: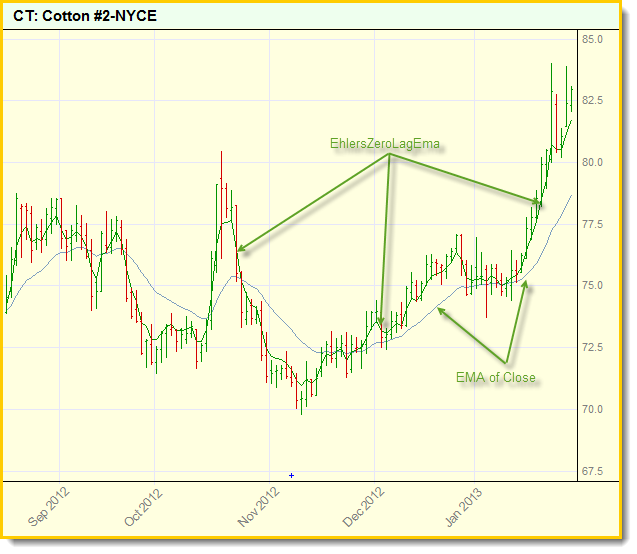 ---
| | | |
| --- | --- | --- |
| Edit Time: 4/8/2018 1:40:08 PM | | Topic ID#: 272 |