Software advancements create a need to change older features and add new abilities. Tables in this section will list the keywords changed or removed and inform which new keywords and methods can be used in their place where it is possible.
Historical information on Object properties and function changes will be listed in each of the object's changed keyword tables. Language functions and keyword changes will be listed the Trading Blox Basic Language keyword change table.
Automatic Keyword Changes
Trading Blox updates all the scripts with any scripting changes that it can easily identify. From a user perspective this means any program keyword changes discovered in the Blox modules will be replaced with a the keyword assigned as the obsoleted keyword replacement.
When a keyword is replaced the user will be prompted to save the changes. If the user declines to save changes after the first startup of a new version displays its "Do you want to save changes?" those automatic scripting updated keywords will be lost.
Modules with keywords that are no longer viable will create an error condition when that module is run because the keyword replacement process will not run again until a new version is used. However, if the user is willing to go into the Trading Blox directory and use Windows Notepad to view the "Registry.ini" file in the Trading Blox directory they can reset the control setting so the automatic keyword replacement process will run the next time Trading Blox is executed.
To reset the automatic keyword replacement process locate the "UpgradedToVersion" control word and reset the value to zero.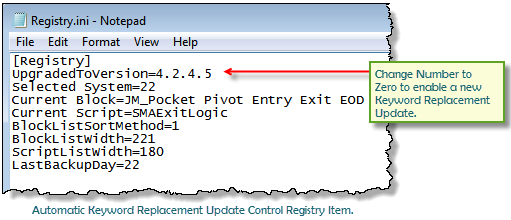 When the value of the control word is below the version value of Trading Blox the automatic keyword process will execute and the Registry.ini setting will be updated regardless of whether the keyword changes were saved.
Keyword Replacement Example:
When this keyword is found:
instrument.futuresMonth
Trading Blox will remove the above keyword AND insert this keyword:
instrument.deliveryMonth
---
| | | |
| --- | --- | --- |
| Edit Time: 5/12/2017 2:31:50 PM | | Topic ID#: 154 |