Download ten years of free historical trade data for futures and forex. This data is not updated.
Right click on the following link and use "Save Target As.." to save this compressed folder to your hard drive. The total size is about 2.5 megabytes for 38 futures and15 forex.
The field layout is Date, Open, High, Low, Close, Volume (zero for forex cash markets), Open Interest (futures only), Delivery Month ( YYYYMM futures only), Unadjusted Close (zero for forex cash markets).
This data should only be used for testing and training. If you like this data, you should get your own subscription from CSI. They will provide you with more markets, more data, more options for back adjusting, and a robust reliable service with redundancy and backup processes. This free sample data is not guaranteed in anyway, is not updated, is not always available, and may be changed or discontinued at any time without notice. There is absolutely no support provided for use of this data other than for Trading Blox customers.
If you order from CSI please be sure to inform them that you are a Trading Blox™ customer and use discount code TBLOX15 to receive a 15% discount on your first order.
Here are the forex pairs included in the sample data: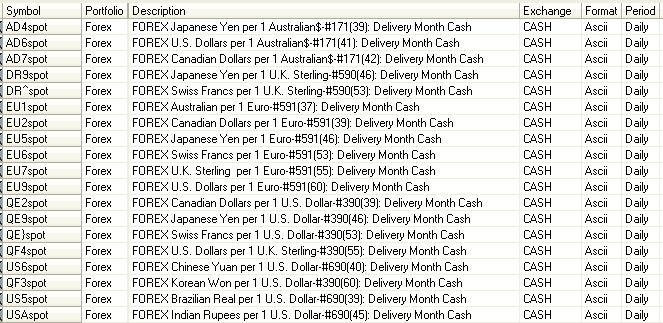 And here are the symbols for the above as described in the Trading Blox Forex Dictionary: