These instructions tell you how to create your own data files with the CSI Unfair Advantage (UA) product.
This process assumes you are using the latest CSI UA product version 2.10.8.158 or newer, and Trading Blox version 4.4.7 or newer.
These instructions are for stocks, futures, and forex. The screen shot is only of the futures setup, so be sure to adjust the naming convention if setting up stocks or forex.
There are two basic steps:
1) Import our CSI UA portfolio file into CSI UA and build all the data files.
2) Tell Trading Blox where the new data can be found.
——————————————————————-
This process will setup UA with a comprehensive list of markets similar to the courtesy data provided by Trading Blox. You can then add and delete new markets to CSI UA later as necessary.
1) Use the Portfolio/Download Vendor Portfolio menu item in UA. Download the Trading Blox Futures, Trading Blox Stocks, or Trading Blox Forex portfolios as needed. This will setup all the sample markets in a UA portfolio called TBLOX Futures, TBLOX Stocks, or TBLOX Forex respectively. The location of the files will by default be C:\UA\Files\TBLOX Futures, C:\UA\Files\TBLOX Stocks, C:\UA\Files\TBLOX Forex, etc depending on your installation location. This location will be used in Trading Blox. This location can also be changed if desired.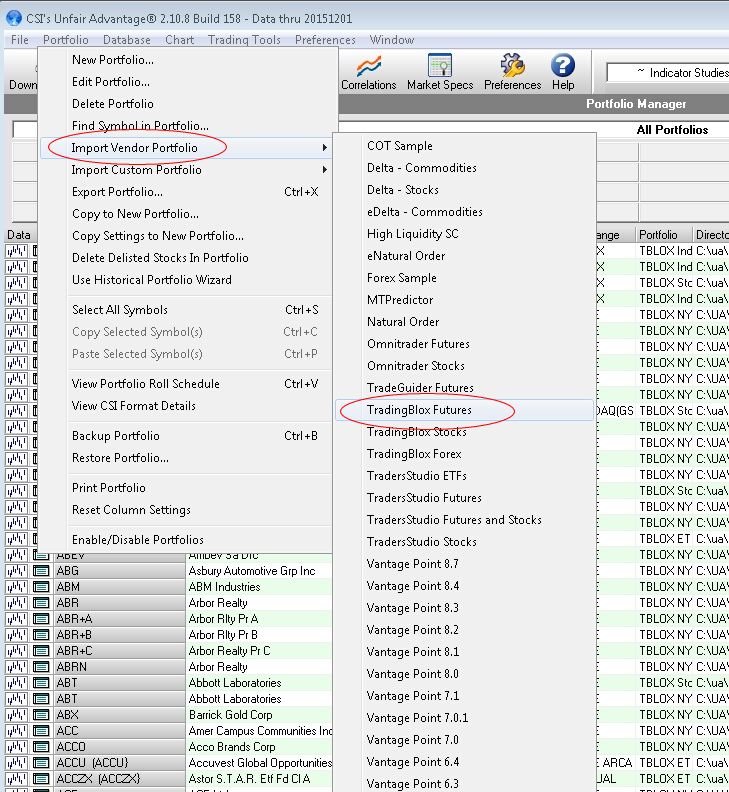 The CSI portfolio should look like this: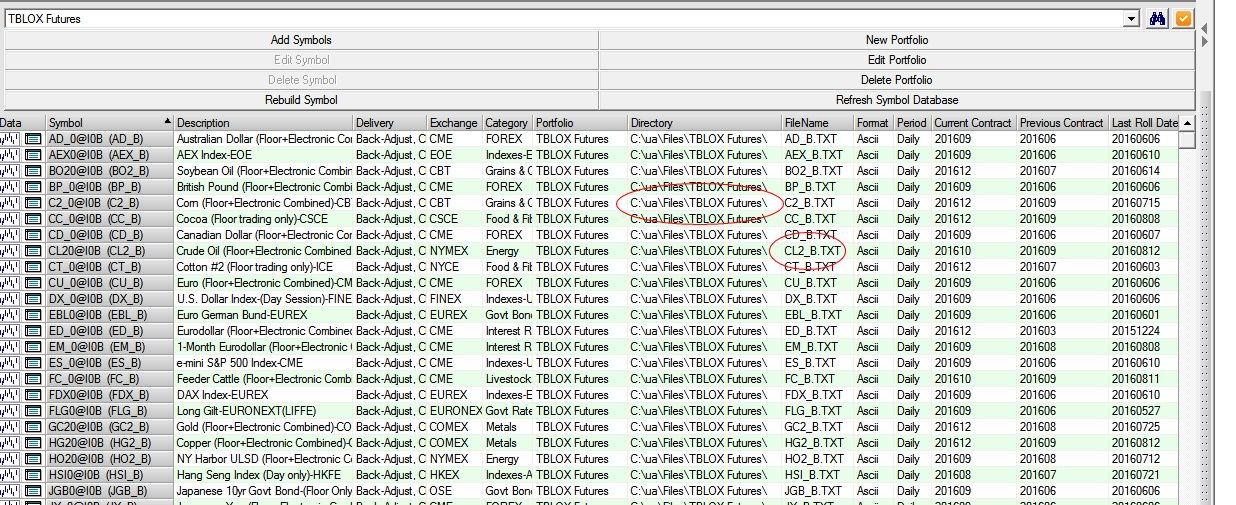 Note also the file name. The default file name is something like AD_B.TXT. The default Futures Dictionary in the Data/Dictionary folder that comes with version 4.4.7 should be setup like this as well. If your futures dictionary has a different file name, then either change it, or download a fresh install of Trading Blox.
Basically, check the folder, and the file name, in CSI UA and make sure the futures data folder in preferences and file name in the Futures Dictionary match.
Build these files as suggested.
2) Trading Blox is now ready to use this data. Select Edit/Preferences from the Trading Blox menu, and set the Futures Data folder to C:\UA\Files\TBLOX Futures. For forex set the Forex Data folder to C:\UA\Files\TBLOX Forex, and for stocks set the Stock Data folder to C:\UA\Files\TBLOX Stocks. If your UA installation is in a different drive or directory, or the files are stored somewhere else, then use that location here. The picture below is for Futures, and shows how the Futures Data Folder is changed correctly to C:\UA\Files\TBLOX Futures.

Create a new Trading Blox portfolio using the Edit Portfolio screen. You can now run a test using these new data files. As you update UA each day with new data, each new day's data is then immediately available to use in Trading Blox for testing. Remember to set your test end date to the current month so the test uses the new data.
To add new markets to your portoflio follow the instructions on this page:
http://www.tradingblox.com/tradingblox/howto-ua-newmarket.htm