Trading Blox is a Windows-based software designed for those who want to use a realistic testing approach for a set of trading rules that determine when to enter and exit trades over range of dates and market history so the performance of those rules can be discovered. Trading rules are as a set of scripted statements that creates order and perform many other tasks. When trading rules are written and saved, they create a way to test trading ideas consistently for each symbol and on each test in the range of dates the user determines.
Trading rules are the heart of a system. Systems are run from within suite. Suites can contain one or multiple systems that execute all the systems at the same time and produce combined system performance report.
Each system executing in a suite determines the trades that the rules in the system would have generated for each of the dates and each of the symbols in the portfolio. At the end of testing, all the results of those orders to enter and exit are calculated, summed and presented in an organized report. A long list of statistic can be enabled to show the viability of the suite's test results.
Test results can just create a Performance Summary, and, or create a list of active positions and new orders for the next trade day. 
Trading Blox suites with multiple systems execute all the systems and its rules for the same date before it executes the next date. This test approach means all the system test all the symbols in its portfolio on the same test date. When all the systems in the suite have finished testing all the symbol on the same test date, the suite process allows the user to analyze the results of each system's testing for that date and make changes in any orders that each system created. This post same date testing and after order generation review of results is how we make decisions is deciding if we want to allow the collection of orders to be changed before they are allowed to be executed.
 Systems can easily test symbols in each of the instruments classes of Stocks, ETF, Mutual Funds, Futures and Forex. Each system in a suite can process all the same class of instrument, or each system can trade a different class. Each system has a portfolio that contains the same or a different class of instruments.
 Trading Blox is an unusually capable simulation engine capable of creating test results in the same way we would trade in real time. There are many option settings available that are explained in other sections of this User's Guide.
This Trading Blox user guide is in a period of significant change to accommodate all the features made available in version 5.2.x. Should you have a question or find an area that doesn't seem correct, please post your question in the Trading Blox Trader's Roundtable Forum. All Trading Blox users can get access to the Trading Blox support section of the forum that is not made visible to public forum users that do not use Trading Blox.
An alternate method for sending feedback is to use the Email Option: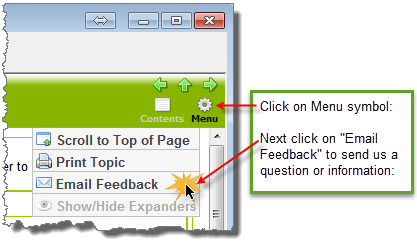 ---
| | | |
| --- | --- | --- |
| Edit Time: 1/3/2018 10:23:06 AM | | Topic ID#: 233 |