1.Save any open reports or Log Window information before you start the importing process. This is important because when you give consent to import the file, Trading Blox will exit from the screen while it imports the file's components. Once the imported information in installed, Trading Blox will automatically restart. When it restarts it will show the Suite name of the imported suite in the Suite List.
2.Click on and then Copy the Import Suite Zip file package you wish to import into Trading Blox.

3.Click on Home Menu and then click

suite option.
4.This next message will appear informing that you are about to import a Suite file collection.
Home Menu Import File Will Exit and Restart after Suite is Imported.
5.Click the Yes button if you want to proceed at this time. Click No, if you want to save more displayed information before Trading Blox exits and restarts.
6.If you click Yes a similar window shown below will appear providing you with a location where you can paste the suite file package you just copied. Click anywhere on the open white space and the Paste the file package into the open dialog.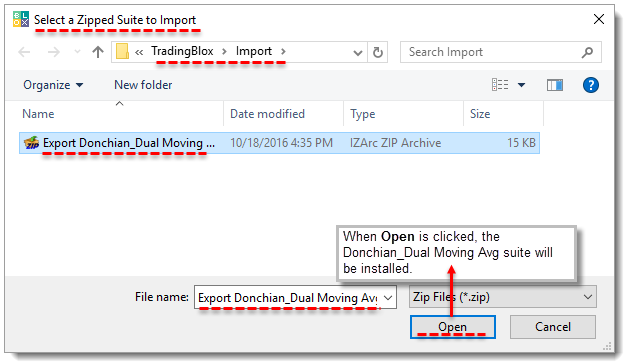 Home Menu Suite Transfer Import File Open Dialog
7.You should see the name of the suite import package file in the white are of the dialog and in the Open File name area.
8.When you click the Open button, Trading Blox will unpack and place all the files in the Suite-Zip file into their proper Trading Blox folders. When the file installation finishes, Trading Blox will exit and then restarts again.
9.After Trading Blox has closed and then reappeared again, you should see the Suite file name you just imported.