This Trading Blox feature provides an screen editing option to add or draw/remove capital from the trading account. During a test, script commands can add or remove amounts.
Values for an add, or a draw amount can be created by keyboard entry where the user enters a date and an amount. Values entered are recorded on the test date that matches the the simulation's test date and are applied as one of the latest transaction during the After Trade Day script execution equity adjustment timing (After Trade Day is an area that is updated for every test price bar in the file).
How each value affects the trading account is determined by the +/- sign that precedes the amount value.
Global Suite Parameter's Fees Parameters can be enabled so the parameter option Use Capital Adds Draws will include the transactions in the Capital Adds Draws transaction record file.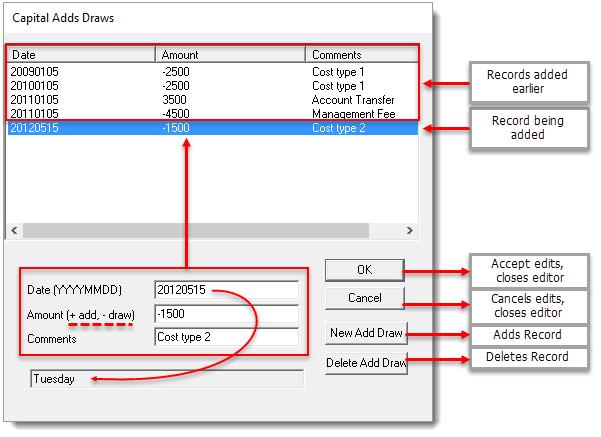 Each time a capital value are added or removed the Capital Adds Draws file is updated. As capital record transactions are recorded, and each transaction record date passes the value of the summed transaction to that date are applied, the results can be reported.
The contents of the Capital Adds Draw file will displayed as shown for each program mentioned:
File display in Notepad:

Spreadsheet display:

Version,7

Date,Amount,Comment

20090105,-2500,

20100105,-2500,

20110105,2500,

20120105,-2500,

20130104,4500,

| | | |
| --- | --- | --- |
| Version | 7 | Comment |
| Date | Amount | |
| 20090105 | -2500 | |
| 20100105 | -2500 | |
| 20110105 | 2500 | |
| 20120105 | -2500 | |
| 20130104 | 4500 | |
The image below shows where the Capital Adds Draw file is located.
Capital Add Draw records for each system is kept in the default Data folder created during program installation: