It is possible to easily convert indicators from using daily data price records to weekly price records when using the indicator is one of the built-in indicators.
In the Trading Blox default Dual-Moving Average Entry Exit Blox use of the built-in Average function provides options for the data's time frame. Average function allows a user to change the time from a smaller to a larger time period (i.e. Daily to Weekly) by clicking on the Time-Frame drop down selection option.
By default the BAR reference in the built-in Average function dialog refers to the data period of the data file. Setting the Time-Frame in the indicator to the Bar option the Average function will use the time frame of records in the data file. In this case the Average function was created to use daily data. By selecting the Bar option the Average indicator will use the file's daily data in its calculations and plot display.
A change in the Time-Frame reference to Week when the data file has daily data record allows the Average function to use the optional Weekly records that Trading Blox creates when it Data Option section in Preferences show Process Weekly Bars is enabled.
Changing Daily Price Plots to Week Prices Plots:
Start by ensuring the Preference section shows the data option will "Process Week Bars."
Make a copy of the default blox that needs to be converted:
Open each indicator and change the Time Frame setting from Bar to Week:
Create a copy of the default system component list using a different name: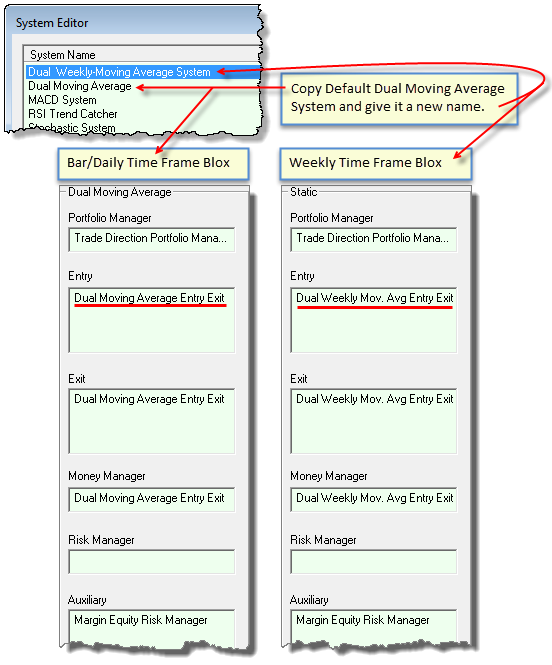 Create a Daily-Avg Suite and a Week Avg Suite:

---