Custom scripts are created by the user adding a script name to the list of scripts in a blox. Name used when creating the script must not be one of the standard script names Trading Blox provides. Instead it should be a name that best describes the purpose of the custom script. Whatever name is used, the name chosen will be the name used when the custom script is called.
To create a custom script, begin by selecting a blox where you want the custom script to be placed. Pick the location in the script listing where you want it to appear, and then Right-Click on the script name just before intended custom script location and a menu will appear.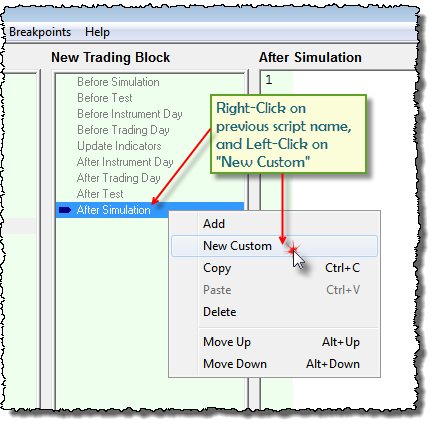 Custom Script Section Creation Menu Steps
When the New Custom menu item is clicked in the pop-up menu the next dialog will appear.
Name Entered will be Custom Script Section Name
Enter a name that is representative of the custom script section's process so that it helps in identifying what will happen with this script section is executed.
When the name is entered and the New Custom Script dialog OK button is clicked, the new custom script name will appear right after the After Simulation script section where we Right-Clicked to create the custom script.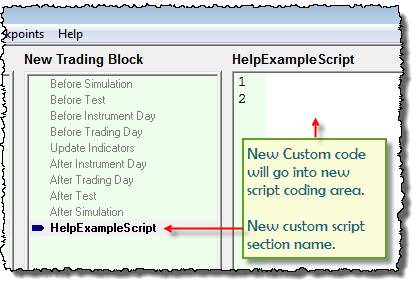 New Custom Script Section
---
| | | |
| --- | --- | --- |
| Edit Time: 2/25/2018 10:57:24 AM | | Topic ID#: 238 |